SWSM is committed to helping employers protect their People, their Profits and their Reputations.
Established in 2011 SWSM is built on the varied and extensive experience of John Timmins. Described by some as a "gamekeeper turned poacher" John is a rarity in having seen health & safety from four distinct perspectives;
– Enforcement (so giving him an understanding of the inspector's expectations)
– In-house advice (providing him with experience of supporting managers)
– Operational management (so he's had to implement arrangements himself), and
– Consultancy (using his knowledge, skills and experience for the benefit of employers.)
This all-round experience enables John to provide balanced realistic advice that is both
proportionate to the risks and achievable. With a reputation for innovation John recognises that
circumstances will dictate that the 'perfect solution' may not be achievable so he will work with you
to find an affordable solution that will manage the risk in your situation.
John recognises that money can only be spent once so he will ensure that you get the best return from your investment – in some circumstances the ideal solution will not be achievable so John will work with you to find an appropriate alternative.
SWSM is able to call upon other specialists to widen the scope of safety-related services provided – these include audiometry, occupational health, first aid training, fire extinguisher supplier.
Based in Gloucester with excellent access to the motorway network SWSM regularly supports employers not only in Gloucestershire but also in the neighbouring areas of Worcestershire, Oxfordshire, Shropshire, Herefordshire, Somerset and Bristol.
SWSM your helping hand to safe working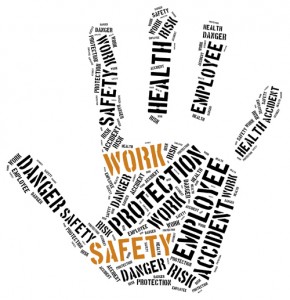 Legal requirements are rarely clear-cut: this is particularly so in the field of Health & Safety where the legislation is riddled with uncertainties – 'so far as reasonably practicable, suitable & sufficient, appropriate, adequate etc.".
Often having a fresh perspective will provide clarity of the extent to which your arrangements satisfy the requirements.
As with all targets most organisations fail to reach the targets they set themselves so if your target is 'minimum legal compliance' and you fail to reach it then you're left non-compliant.
John Timmins
 John is also unusual for a safety consultant in having a post-graduate qualification in Human Resource Management enabling him to ensure that his advice and arrangements complement those  areas where matters overlap such as disciplinary processes, training/competence, returning to work.
"Almost perfect and achievable is better than perfection but unachievable"
John Timmins is a member of a several professional bodies all of which contribute to his continuing development;
–       CIEH, Chartered Institute of Environmental Health,
–       IIRSM, International Institute of Risk & Safety Management,
–       IOSH, Institution of Occupational Safety & Health,
–       CIPD, Chartered Institute of Personnel & Development.
He has been included in HSE's register of consultants, OSHCR, since its launch in 2011. OSHCR was created in response to the Government's concern about the quality of Health & Safety advice provided to employers. The concern appears justified when it appears that fewer than a third of consultants are eligible to join the register.